Update:
Thank you to all our members who attended the 85th Claverack Annual Meeting! We couldn't have asked for a more beautiful day to be at the fair to visit with you in person. We welcomed over 1600 attendees, and we hope you enjoyed the day as much as we did. Be sure to look for an overview of the annual meeting in the October edition of Penn Lines. Members' bill credit for attending the annual meeting was applied to the September bill statement.
Attention Claverack REC Members: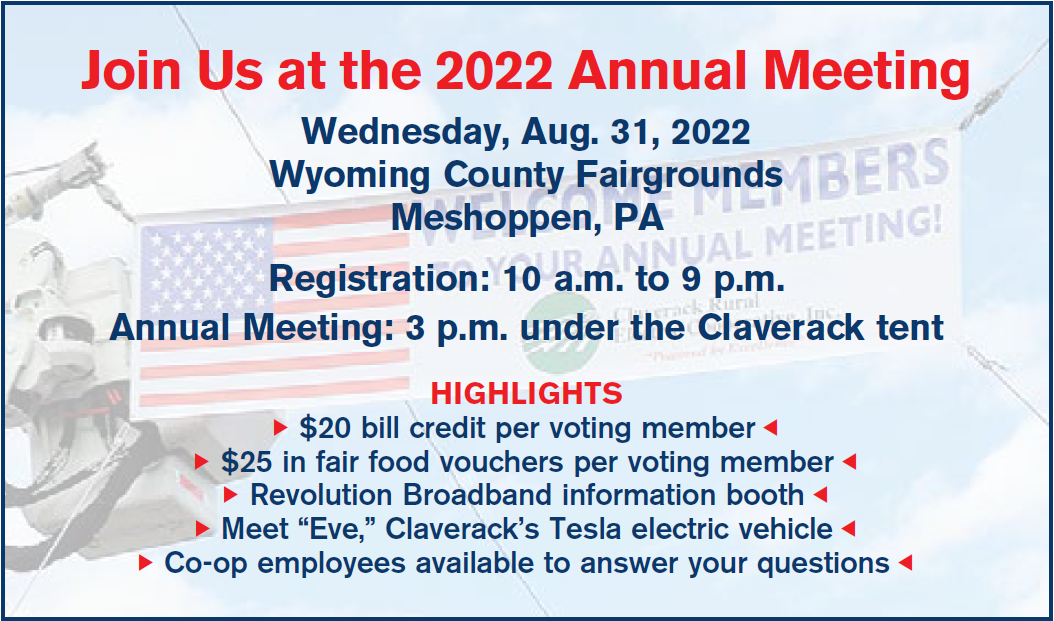 The Wyoming County Fairgrounds are located at 9141 US 6, Meshoppen, PA. Registration begins at 10 a.m. and continues to 9 p.m. Your Registration Card is included with the meeting notice that was mailed separately at the beginning of August - please remember to bring that with you, as well as proper identification. Claverack voting members who register in our tent on Aug. 31 will receive a $20 electric bill credit and $25 in food coupons, which can be used to purchase food from vendors during fair week.
The business meeting will begin at 3 p.m. and will consist of the following:
Business Meeting Called to Order
Introductions and Announcements
Notice of Meeting and Proof of Mailing
Approval of 2021 Annual Meeting Minutes*
Secretary/Treasurer's Report
Board Chairman's Report
President & CEO's Report
Director Election Review
Questions and Comments
Adjournment
Please see the link to the 2021 annual meeting minutes below.