Update: Thank you to all our members who attended the annual meeting! It was a beautiful day, and we enjoyed getting the chance to talk with you and answer your questions. We registered 1167 memberships and had 2024 attendees — we consider the day a success. Watch your October edition of Penn Lines for a recap of the event.
Attention Claverack REC Members: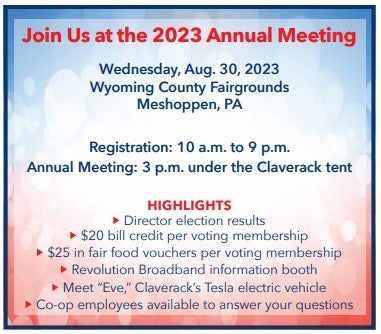 The Wyoming County Fairgrounds are located at 9141 US 6, Meshoppen, PA. Registration begins at 10 a.m. and continues to 9 p.m. Your Registration Card is included with the meeting notice that will be mailed separately at the beginning of August - please remember to bring that with you, as well as proper photo identification. (If you have misplaced your registration card, please bring your photo ID and account number to the registration area.) Each Claverack voting membership registered in our tent on Aug. 30 will receive a $20 electric bill credit and $25 in food coupons, which can be used to purchase food from vendors during fair week.
The business meeting will begin at 3 p.m. and will consist of the following:
Business Meeting Called to Order
Introductions and Announcements
Notice of Meeting and Proof of Mailing
Approval of 2022 Annual Meeting Minutes (see link below)
Secretary/Treasurer's Report
Board Chairman's Report
President & CEO's Report
Director Election Review
Questions and Comments
Adjournment
The 2022 Annual Report can be accessed by clicking here.